irgendwo mit&zwischen mudhoney's i like it small und gro swantje kohlhof's im april 2020 cov-19-bedingt so verdammt wunderbar aus dem schrank gespielten hogwarts exkursionen @ kammer4 entsteht nicht weit der geburts- und wirkensstätte des al capone vom donaumoos ein kotten.


[abbldg.: screenshots: mudhoney/youtube; kammer4]
etymologie
Kotten – auch Kot, Kote, Kotte oder Kate, Katte, Katten – heißt mittelniederdeutsch "Hütte", "kleines Haus". Daneben gibt es weitere Formen mit th: Koth, Kothe, Köth, Köthe, Köthen, Kathe.[…] Das Wort findet sich in allen drei Geschlechtern, ist in Form von Kate/Kote aber meist weiblich, in Form von Kotten meist männlich.
[quelle: wikipedia]
konzept
ein superschlankes (100 x 5 m) als »unland« firmierendes krautgartengrundstück bedarf zu seiner denominativen nutzung eines gartengeräteschuppens. dessen grundfläche begrenzt der b-plan auf eher einer suffizienz das wort redende ≤ 6m². und dies gerätehaus wird hier in form eines aufgeständerten holzkubus zum einsitzbaren aussenschrank, schwebend über saftigstem moosboden zwischen phragmiten und urticaceaen.
bauteile
_kotten [körper] 7 tafeln brettschichtholz [hier: kerto q] d=30 mm, zu je 3.000 x 1.800 mm werden zum – statisch als (ungestringerten) semi-monocoque funktionierenden – korpus plus doppelflügeliger südtür plus nordseitigen seitenflügeln, innerer organisation und dachlattung. vielleicht nicht viel mehr als 300 gramm verschnitt. einschalig & einschichtig. ausschliesslich de- & remontierbare verbindungen mittels quergewindebolzen. uhrglasschalen als gepixelte holzglas©türen.
_dach [fläche] so weit wie der b-plan zulässt auskragende sinus-polycarbonat-fläche als schwach geneigtes pultdach, schön unterlüftet
_fundament [linie] für bindigen boden selbstentwickeltes textiles fundament, aufgespannt zwischen nachgenutztem als raumtragwerk ausgelegtem aluminiumgerüst
bau
02/2021 fundament
03/2021 lieferung holz
04/2021 konfektionieren, montieren, installieren
aber lassen sie uns zunächst etwas detaillierter übers fundament reden:
fundament
01 erdberührung
deine spuren im sand / die ich gestern noch fand / hat die flut mitgenommen… [howard carpendale]
barfussgehen.
machen wir aber nicht.
vielleicht manchmal.
ganz selten.



[abbldg.: barfuss im sand; fussfundament]
unsere anthropogenen mobilitätswerkzeuge haben zumindest gut aufprallgedämpfte, stollenbewehrte vibramsohlen, wir schützen uns mit pneus, federn und hydraulik, mit dämmung, dichtung und kuschligen oberflächen vorm berühren der oberfläche unseres planeten. hinterlassen schuh-/reifenabdrücke, wege, autobahnen.
dabei ist barfussgehen ja eigentlich ganz toll.


[abbldg.: brute force fundament]
jeder eingriff bedingt eine zerstörung,
zerstöre mit verstand. [luigi snozzi]
sind schon unsere mobilitätswerkzeuge und deren infrastruktur nicht gerade zimperlich mit der erdoberfläche (und dem was da alles so darunter liegt), gehen unsere gebäude & gehäuse noch um einiges brutaler mit der erde ins gericht: wenig fragile betonkörper, -platten, -klötze, -pfähle verbuddeln wir frosttief in zuvor dampframmenverdichtetem grund nur um dann auch noch auf feuchtemigration aus dem erdreich und wärmeenergiemigration in ebendieses mit vielfältigen systemen und petrochemischen kampfstoffen nachlegen zu müssen.
nix: touching the earth lightly [glenn murcutt]

[abbldg.: stofftransportorgie]
und dann sind sie drin im boden, unsere massiven fundamente: brute force biegebelastete platten, steife kisten. und ist ihre konstruktive auflast abgeschrieben, verbraucht, nicht mehr aktuell, dann buddelst du die wieder aus, hackst die klein, spielst mit ganz viel glück noch mit mobiler mühle urban mining und transportierst die stattlichen materialtonnagen des caementums dann nicht unanständig weit zu ihrem nächsten einsatzort als downcycled zuschlagstoff eines neuen fundaments. mit der bewehrung muss man/frau noch schaun. sonst und meist wird der bauschutt aber entsorgt bzw bauschuttdeponiert, wird halt weggeschmissen, soweit das halt geht, innert eines geschlossenen systems
02 grundstoff
we all feel better in the dark [pet shop boys]

[abbldg.: fundamentsegel & -rahmen]
das monopol des subterrestrischen massivbaus ist nicht länger hinzunehmen:


[abbldg.: subterrestrischer massivbau vs. subterrestrischer filigran/membranbau]
wie wär's denn, wenn wir ausprobieren, die dem erdmantel massive schürfwunden / kiesgruben zufügende, biegesteife materialschlacht [graue energie, transportenergie, co2, …] des fundamentenbaus aus caementum, kies, stahl & co., eine anständige(re) alternative zur seite zu stellen versuchen: wie wär das, wenn fundament-segel sich unter der erde aufspannen, der filigranbau den untergrund erobert, wenn dort leichte, reversible, permeable, recyclable membranen elegant gravitationsbegründete druckkräfte dem untergrund fast schon zärtlich einleiten.
touch earth softly! [js]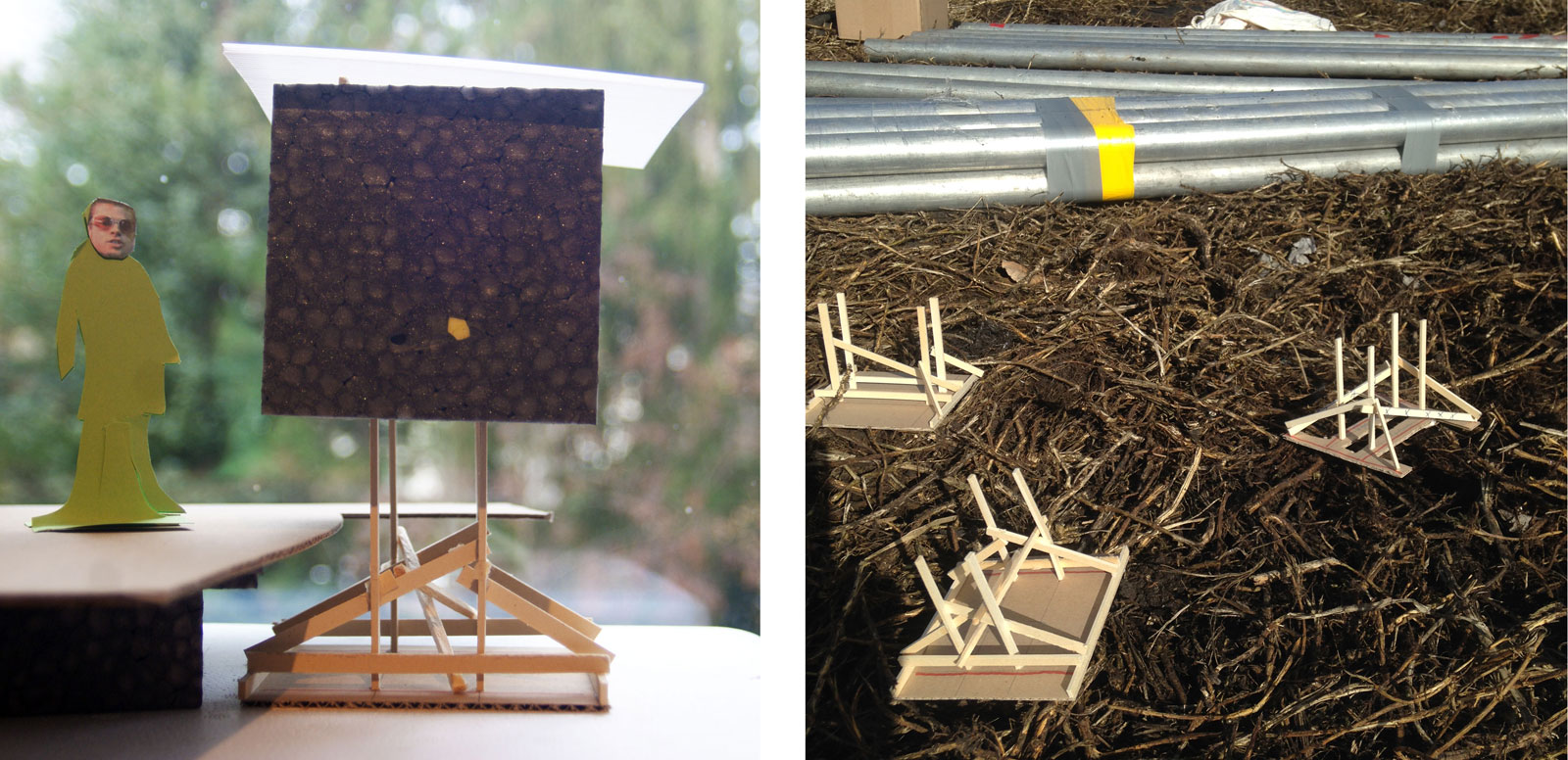 [abbldg.: arbeitsmodell; fundamenttragwerksvarianten on location]


[abbldg.: erstellung textilfundament]
die konfektionierung des schlaufentuches aus polypropylenem bändchengewebe [hier: huesker's basetrac® woven] erfolgt mit polyamid 6.6 multifilament [hier: amann onyx 30wr] auf zwei veteranigen haushaltsnähmaschinen.
nach erfolgreicher anprobe auf dem raumtragwerk aus nachgenutztem leichtmetallenenem gerüstrrohr [assemble-in statt sew-on methode] wird das manuell einfachst handlebare filigranfundament in die etwa frosttiefe grube gesetzt, mit 100% aushub wiederverfüllt. zack fertich!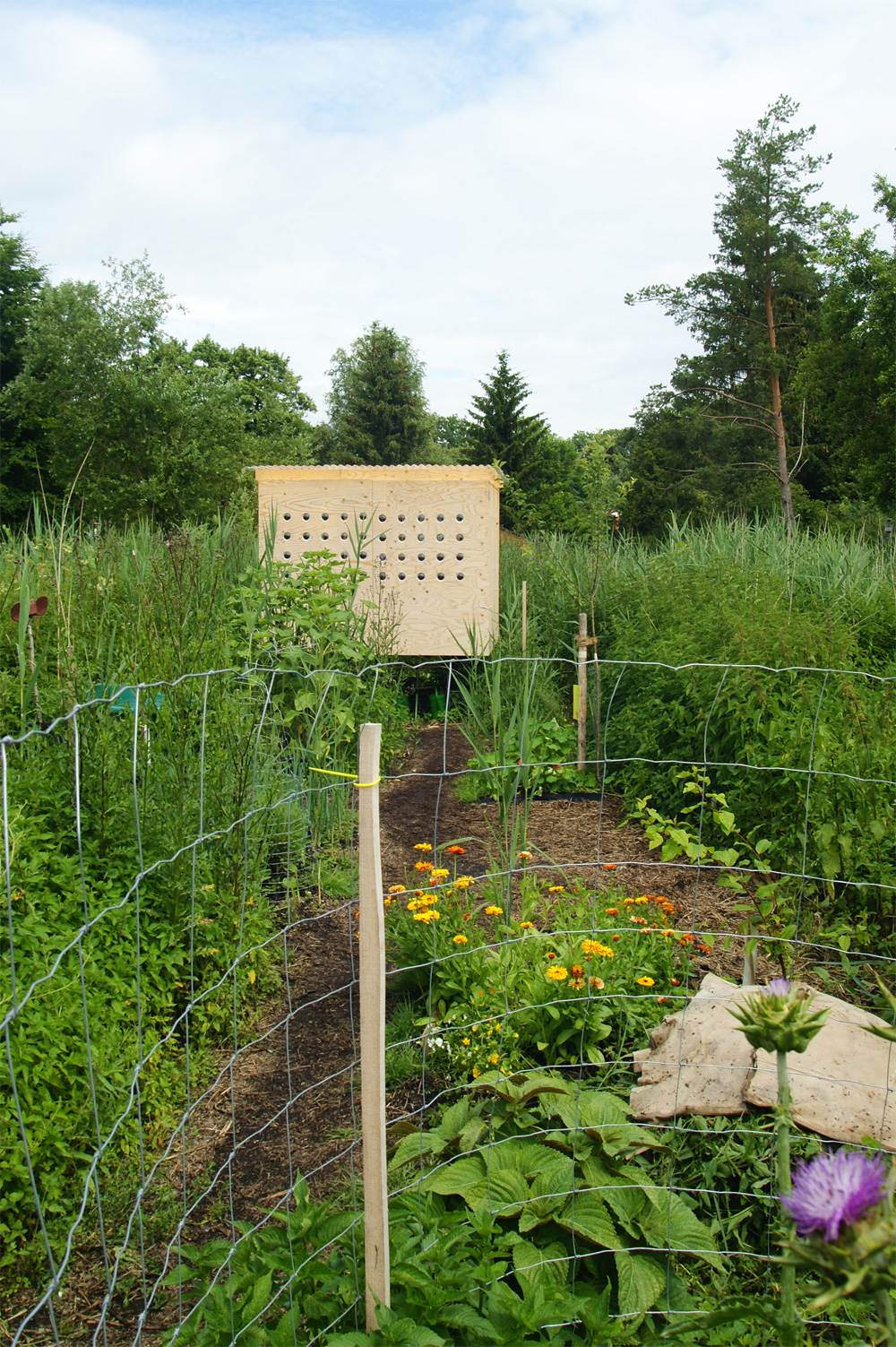 [abbldg.: der 56-äugige kotten blickt über's moos]
+++ stay tuned – more details soon +++