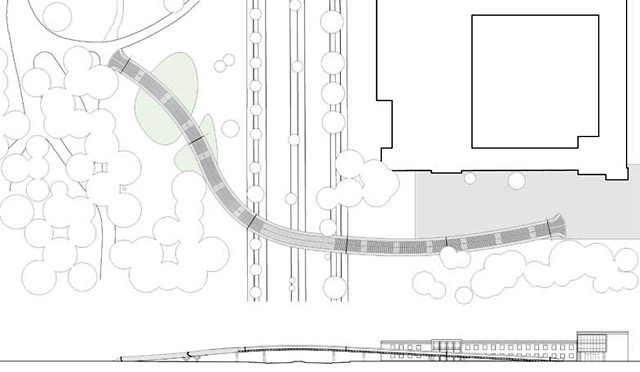 in der glücklichen lage bereits mehr als ausreichende mengen diesen metalls zu tage gebracht zu haben, können wir uns nunmehr erlauben, diesen werkstoff mit einem energieaufwand von 5% der für seine erstmalige herstellung benötigten energie umzuformen, seine vorzüge hinsichtlich gewicht, bearbeitbarkeit, zugfestigkeit und nicht zuletzt vollständiger wiederverwertbarkeit uns zur freude gereichen zu lassen.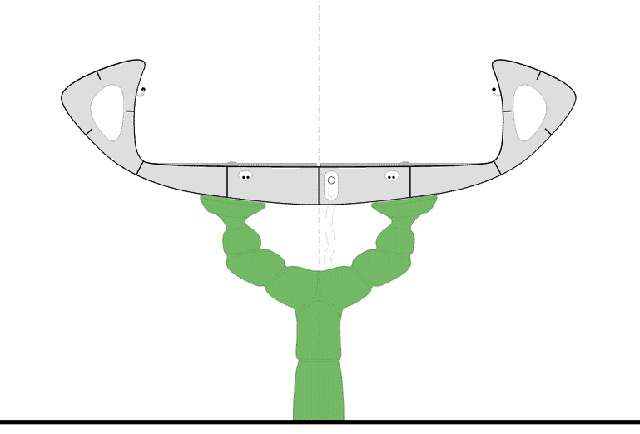 je 2 eingespannte, sich gabelnde hohlprofile aus stahlguss bilden, mit 50mm weich-pu beschichtet, die unterkonstruktion für die aluminiumhalbschalen… das von der brücke aufgefangene regenwasser wird der von ihr bedachten grünfläche via oberflächenversickerung (DN100 in abgestufter körnung) wieder zugeführt.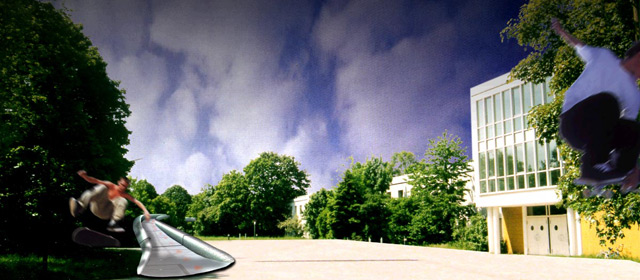 die bedachte rasenfläche wird durch mit dem jahr mitwachsenden zurückfrierenden inseln aus reynoutria japonica zurückhaltend ergänzt. die brückensteigung pendelt vorschriftsgemäss nach 10m von 6% auf 3%, nach weiteren 2m wieder auf 6% zurück. es wird eine lichte durchfahrtshöhe von 452cm (aussen) bis 474cm (strassenmitte) erreicht. die zugfestigkeit von aluminiumlegierungen entspricht (bei erheblich niedrgerem gewicht) der von stahl. den statischen kalkulationen liegen die (ungünstigeren) materialkennziffern  des schweren bruders zu grunde.
[mit
keller & kern
(landschaft) gatterer (tragwerk) klingseisen (barrierefreiheit)]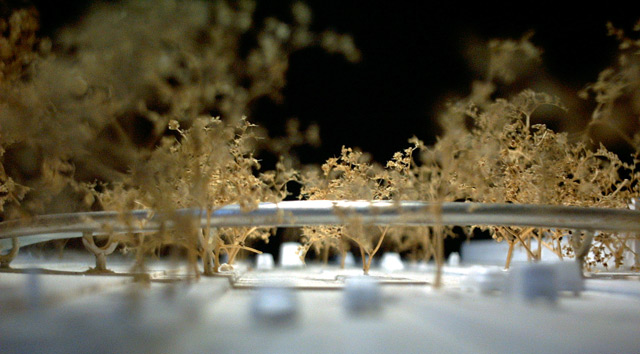 footbridge [with keller & kern (landscape) gatterer (structure) klingseisen (unencumbered access)] munich, competition
5 seperate small bridges on two clamped supports, each spanning 25 m and cantilivering 5 m. monocoquealuminium-half shell construction; ribs at 100 cm centres are wrapped into 8-12 mm aluminium. on a subconstruction of 2 fixed, gabling hollow sections in cast steel coated in 50mm soft polyurethane.