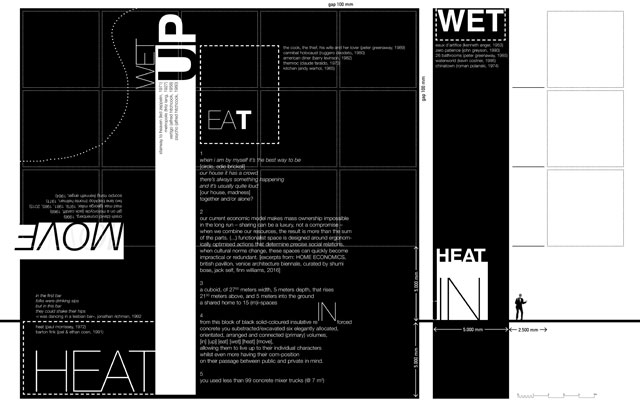 1
when i am by myself it's the best way to be [circle, edie brickell; cover by j mascis
our house it has a crowd / there's always something happening / and it's usually quite loud [our house, madness]
together and/or alone?
2
our current economic model makes mass ownership impossible in the long run – sharing can be a luxury, not a compromise – when we combine our resources, the result is more than the sum of the parts. (…) functionalist space is designed around ergonomically optimised actions that determine precise social relations. when cultural norms change, these spaces can quickly become impractical or redundant. [excerpts from: HOME ECONOMICS, british pavillon, venice architecture biennale, curated by shumi bose, jack self, finn williams, 2016]
3
a cuboid, of 27.60 meters width, 5 meters depth, that rises 21.50 meters above, and 5 meters into the ground a shared home to 15 (m)i-spaces
4
from this block of black solid-coloured insulative reinforced concrete you substracted/excavated six elegantly allocated, orientated, arranged and connected (primary) volumes, [in] [up] [eat] [wet] [heat] [move], allowing them to live up to their individual characters whilst even more having their com-position on their passage between public and private in mind.
5
you used less than 99 concrete mixer trucks (@ 7 m3)
[in]
[up] stairway to heaven (led zeppelin, 1971)
metropolis (fritz lang, 1927)
vertigo (alfred hitchcock, 1958)
psycho (alfred hitchcock, 1960
[eat]
the cook, the thief, his wife and her lover (peter greenaway, 1989)
cannibal holocaust (ruggero deodato, 1980)
american diner (barry levinson, 1982)
themroc (claude faraldo, 1973)
kitchen (andy warhol, 1965)
wet
eaux d'artifice (kenneth anger, 1953)
zero patience (john greyson, 1993)
26 bathrooms (peter greenaway, 1985)
waterworld (kevin costner, 1995)
chinatown (roman polanski, 1974)
[heat] in the first bar/folks were drinking sips/but in this bar/they could shake their hips
»i was dancing in a lesbian bar«, jonathan richman, 1992
heat (paul morrissey, 1972)
barton fink (joel & ethan coen, 1991)
[move]
crash (david cronenberg, 1996)
girl on a motorcycle (jack cardiff, 1968)
mad max (george miller, 1979, 1981, 1985, 2015)
two lane blacktop (monte hellman, 1971)
scorpio rising (kenneth anger, 1964)