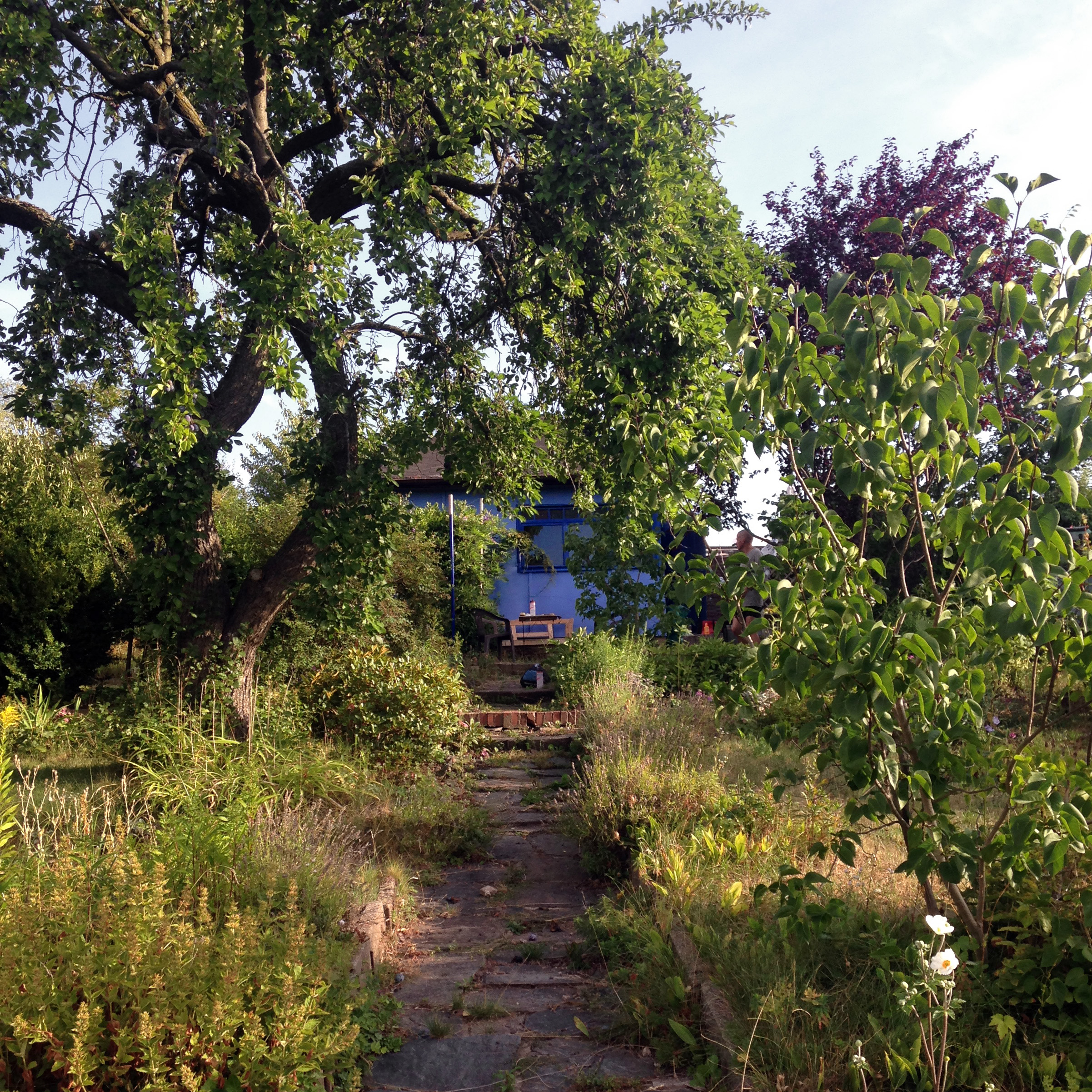 [photo: martina günther]
ein hilferuf »mein gartenhäuschen ist baufällig – ich glaube es muss abgerissen werden.«- die historische laube steht in chemnitz am »kappler hang«. der nach süden abfallende, terrassierte garten gibt den blick über den ortsteil kappel mit seinen industriebauten frei und dann himmel und horizont.
ein paradies.
die ortsbegehung ergibt: die bausubstanz ist in ordnung.
»how little need be done?« should be the designer's first question.'
cedric price
die laube wird nach einigen wenigen maßnahmen noch viele jahre erhalten bleiben können, freude spenden und ein dach über dem kopf, wenn sonne oder regen zu stark werden. ansonsten ist man eh draußen – im garten.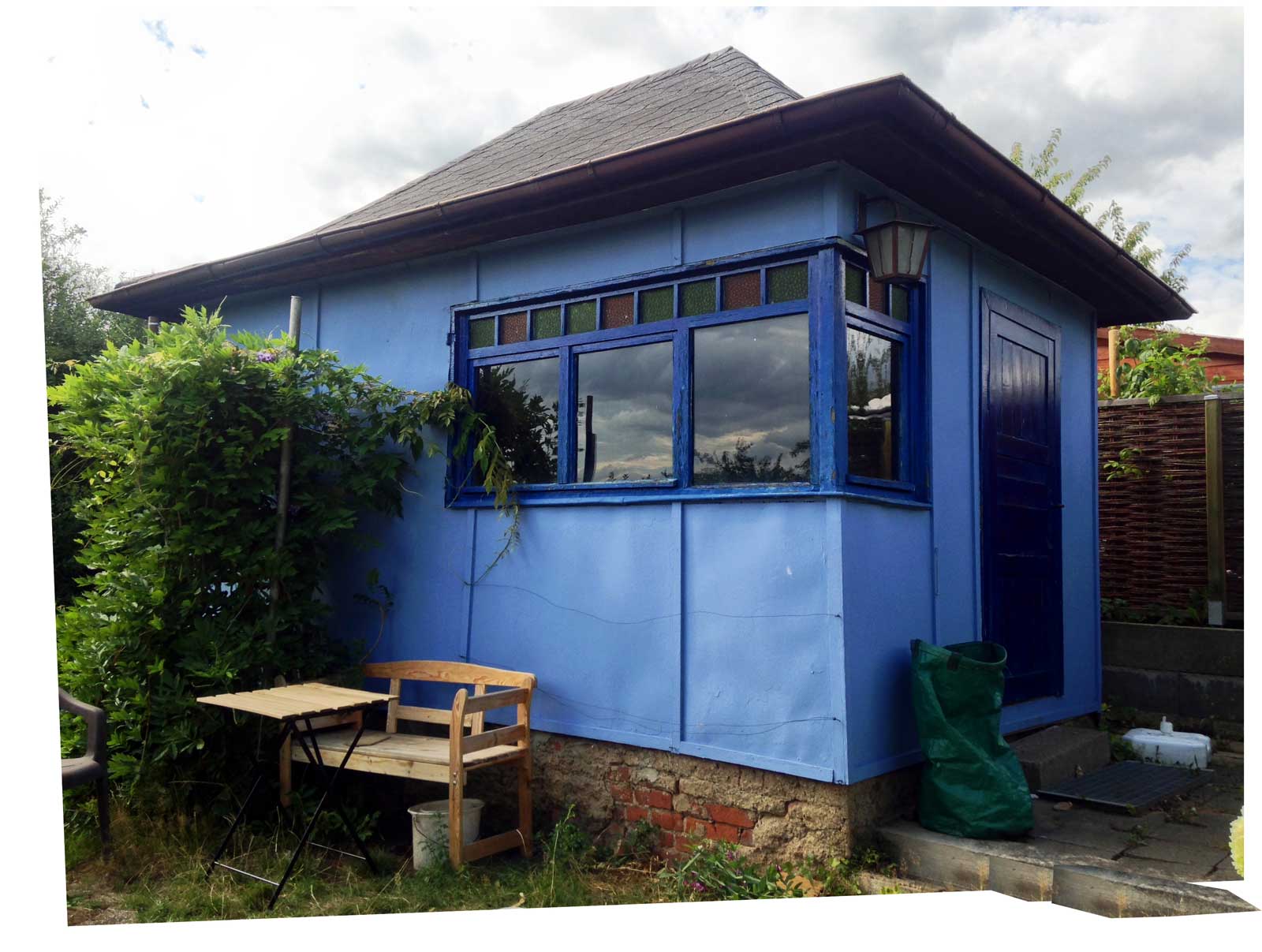 [photo: martina günther]
poetische ertüchtigung des bestandes statt abriss.
maßnahmen
rückschnitt glyzinie; entfernen der verholzten schlingtriebe, die sich durch die verschalung des dachüberstandes und unter der regenrinne ins dach vorgearbeitet haben; vorgeblendete hartfaserplatten: ergänzung der befestigungs,- und deckleisten, entfernung alter farbreste; schleifen grundieren, neuanstrich mit blauer fassadenfarbe.
der bestand
das gartenhaus ist eine holzständerkonstruktion und zweiseitig mit einer holzverschalung beplankt. der sockel ist gemauert, und sichtbar. das walmdach, das durch einen aufschiebling den knick im gratverlauf erhält ist mit dachpappe gedeckt.
das übereckfenster aus holz hat an der oberseite eine zierreihe aus kleinen gelben und grünen glasscheiben. im inneren gibt es eine großen raum. ein offener abstellbereich ist mit einer holzwand abgetrennt; es wurden irgendwann hartfaserplatten als wetterschutz vorgebledet. diese sind mit genagelten leisten gehalten.

[photo: martina günther]
vom kleingärtnermuseum in leipzig haben wir später erfahren: es könnte sich tatsächlich um eine sogenannte »wassermann-laube« handeln. diese wurden ab den 1920er jahren vorrangig in chemnitz aufgestellt, da der dort zuständige grundstücksinspektor (leopold wassermann) diese laubenform vorschlug. später fanden verschiedene varianten dieses laubentyps in der »sammelmappe für laubenmuster« (1938) wieder und wurden so von der landesgruppe sachsen der kleingärtner verbreitet. die erhaltung dieser historischen laube ist begrüßenswert.
für das gartenhaus kann man eine erbauungszeit von 1920er bis ende der 1930er jahre annehmen…
es wird also schon bald 100 jahre alt.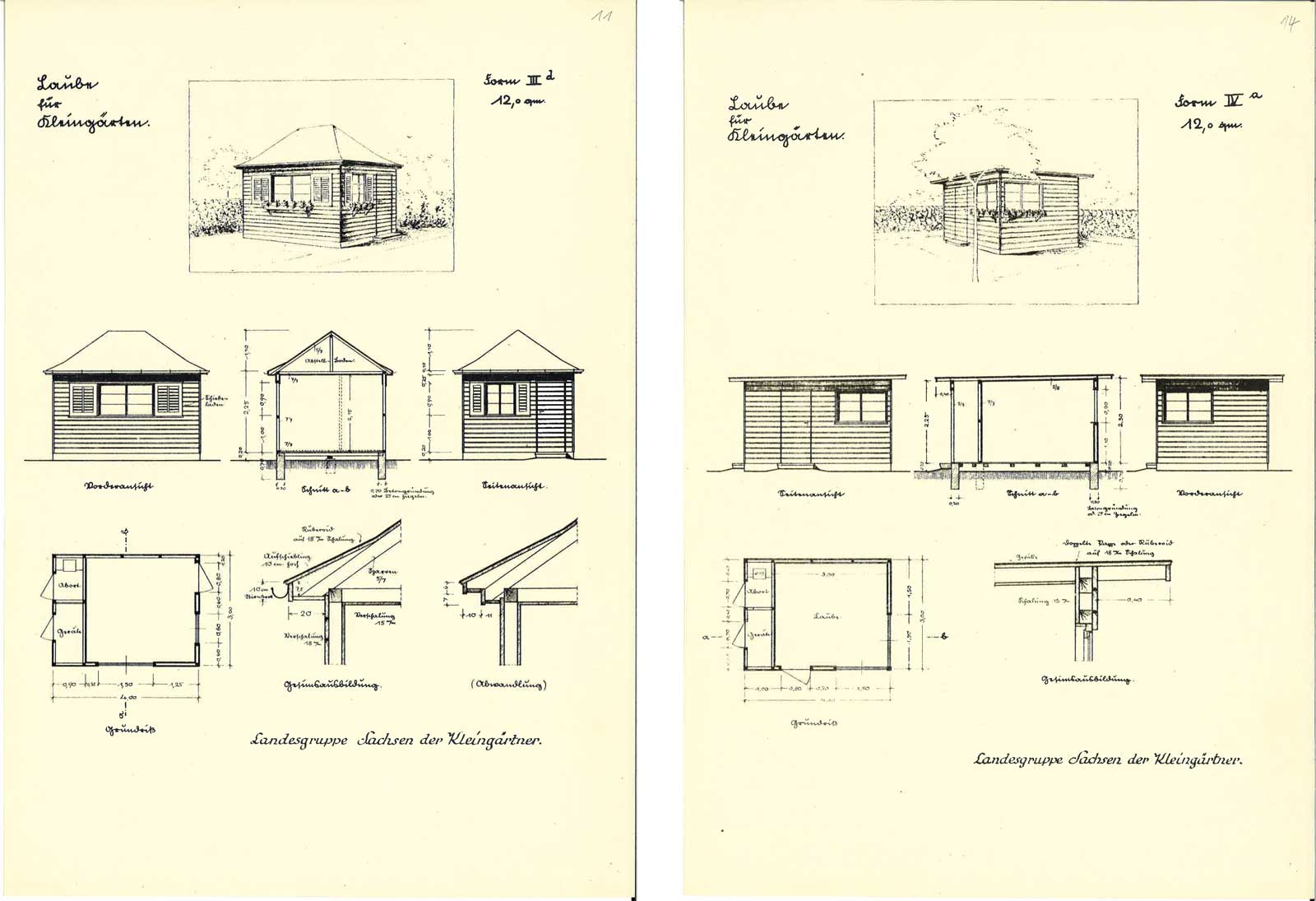 [sammelmappe: laubenmuster:
laube für kleingärtner, form IIIa (links) form IVa (rechts)]
quelle laubenmuster:
archiv deutsches kleingärtnermuseum in leipzig e.v. kleingarten-museum.de