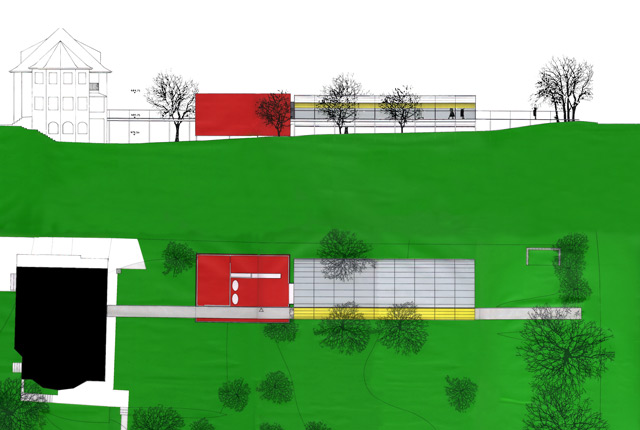 für die erweiterung des schwäbischen architekturmuseums/augsburg waren ausstellungs- und lagerräume, zzgl einiger nebenräume gefordert. als weitgehend vorfabrizierrter aufgeständerter leichtbau vermeidet der entwurf weitestmöglich eingriffe für den bald 100 jahre alten obstgarten. die durchwegung vom altbau bis zur externen erschliessung erfolgt über einen steg, die rote lkw-planen-bespannte box enthält auf eingangslevel rezeption, verkauf & wc, die lagerflächen sind darunter befindlich. das ovalige strangprofil beinhaltet den ausstellungsraum.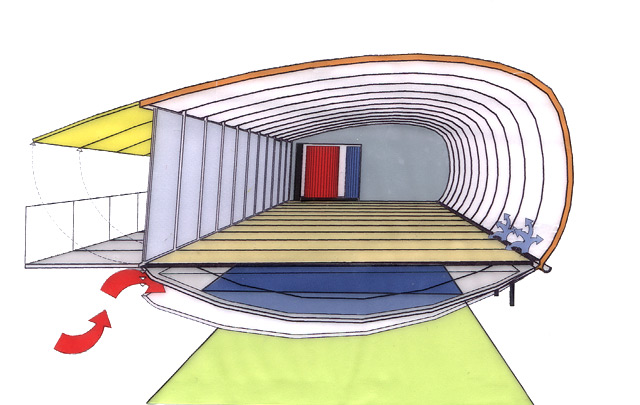 schalenelemente honeycombsandwich aus nomex (weiss), aussenseitig transparent, innenseitig transluzent laminiert, direkte sonneneinstrahlung wird ausgeblendet winglets schwenkbarer sonnen- und blendschutz aus transluzentem abstandsgewebe, im geschlossenen zustand als zusätzliche wärmedämmung verglasung isolierverglaste schiebeelemente versorgungssteg energie- & wasseranschluss an bestand. verbindungssteg. gitterrrost aluminium quellüftung im ausstellungsbetrieb thermischer, im vortragsbetrieb mechanisch unterstützter betrieb mit zuschaltbarer heizung doppelboden mit unterschiedlicher belegung: a regenwassersack (hls) b stuhllager (zusammengeklappt) faltbare stellwände etc.; bsh tafeln auf bsh trägern hängebauch honeycombsandwich-schale, aufklappbar regenwasserspeicher stabilisierung des raumklimas, z.b. abkühlung der thermisch eingesaugten luft unter ausnutzung der nachtabkühlung. wahlweise mit innen-/aussenraum zusammenschaltbar. spülung wc. schilfbecken pflanzliche reinigung des brauchwassers, rückführung in den wasserkreislauf als sickerwasser.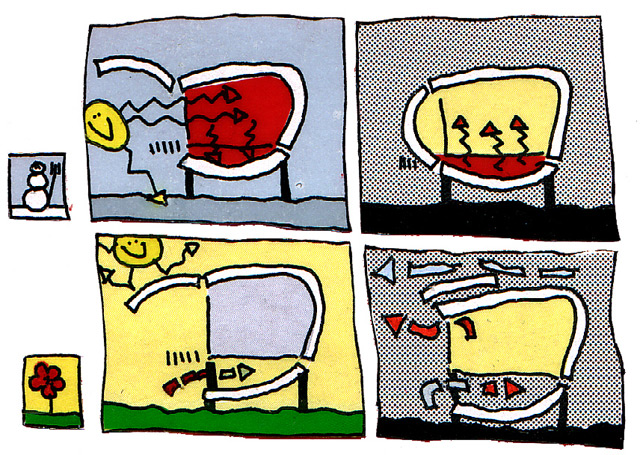 architecture-museum augsburg, competition the extension of the swabian architecture museum, exhibition- and storage-spaces, are constructed as an low-invasive prefabricated system. translucent pneumatic membrane. water-beds as thermal storage in underbelly. natural ventilation. adjustable to climatic day/night, and summer/winter situations as well as exhibition requirements.
the design was aquired by the museum as part of its permanent collection.
der beitrag wurde in die ständige sammlung des museums als dauerleihgabe aufgenommen.