Bicycle thinking can never be the same again. and there can be no more nonsense about permanent and definitive forms… schreibt reyner banham 1960 im aufsatz grid on two farthings im new statesman und macht die stagflation der gestaltung an der zu geringen hinterfragungstiefe fest: es ginge nur noch um systematic refinement of a basic structure that was beyond question.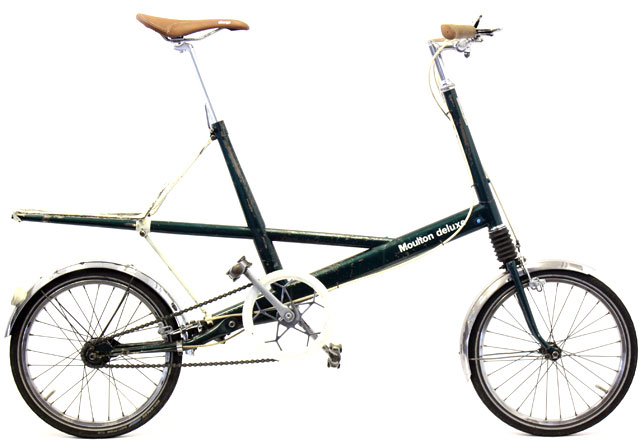 was sir alex moulton (1920–2012) da gemacht hat, ist ein sog. fully, beidachsig gefedert, reduzierter roll-und luftwiderstand, bequemer durchstieg, integrierter tragegriff  im schwerpunkt, gepäckraum,…: kein fortschreiben des unseren lycra-helden armstrong bis zabel vom radsportverband vorgeschriebene rollenden untersatzes, sondern ein radikaler ansatz, wo veränderte rahmenbedingungen eine grundsätzliche neubetrachtung zulassen, wo eine mögliche oder gebotene umverteilung bzw. aufsplittung von funktionen eine integriert gedachte, optimierte form nach sich zieht.
die dann sogar, folgen wir banham weiter, unter zuhilfenahme eines kleinen details, auch gleich gesellschaftliche auswirkungen hat: There is another and more intriguing sense in which the mini-bike brings on a minor cultural revolution. and this by way of a clever piece of equipment that does come with the machine. A simple ring of polythene on the chain-wheel effectively keeps clothes away from oil. and thus liberates the rider from that badge of social shame: trouser clips. You can ride the Moulton in a business suit and most of us minibike pioneers usually do.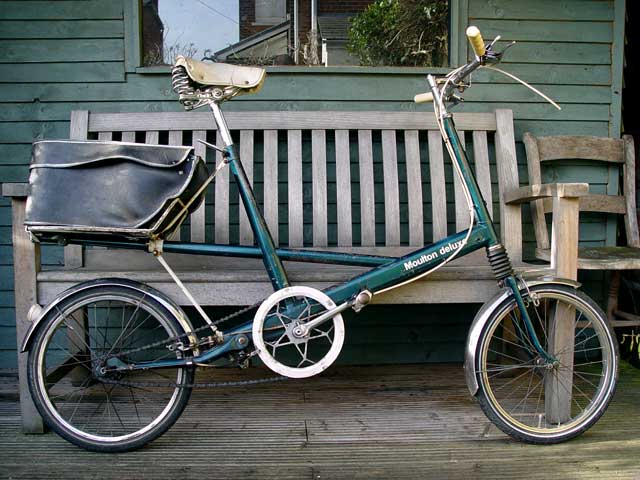 unser fuhrpark ist jüngst um dieses 1964er moulton deluxe gewachsen, a commuter for coventry:
die moulton preservation society hat dem 50 jahre jungen veloziped die konstruktionsbedingt hochbelastete weil kragmomentbeaufschlagte hinterradgabel verstärkt, wir haben die benutzeroberfläche für hand und hintern ersetzt, den würdevoll patinierten rest zerlegt, gereinigt, gefettet, geölt & den british racing green originallack hartgewachst. a resurrection.
und gleiten nun, als neuauflage der von banham beschworenen pioniere und ebenfalls im business suit auf dem f-frame durch die gegend. und erleben wie dies nicht wenigen passantengesichtern ein kurzes lächeln einhaucht.
glide on!