content & context
2 different institutions of education [elementary school & residential arts centre] are situated on 2 oppositional sites [realistic urban & romantic riverside] – a research into the influence of a combination of generating forces towards architectural form.
3rd year undergraduate architecture design studio
»school« being the scheduled subject for this single-semester architecture design studio (from september until december 2010), explored a range of institutions of learning:
art gallery: a short (but real) project, a two-week design workshop for the alteration and extension of seoul boaninn art-gallery
an elementary school
a residential arts centre
two contrasting sites were chosen for the two institutes of education,
the tight urban plot (occupied by a secondary school to shut down in 2013), and the
vast riverside (both banks incl. the river.)
facts
primary school
gross floor area [gfa] 9.000 m2,  class rooms (ca. 60 m2 each) 27, parking 46
residential arts centre
gross floor area [gfa] 9.000 m2, studios (ca. 60 m2 each) 27, parking 46
realistic site 12.500 m2
romantic site 25.000 m2
organisation
students were working in two teams. each team had to do two projects (assigned by raffle), either the combination of
realistic site / school and romantic site / arts centre or
realistic site / arts centre and romantic site / school.
teaching team
jan schabert
김효진 kim, hyo jin
김주연 kim, ju yean
guest crit
raffaele pernice [kmu] lim wei siang freddie [kmu] steve skorski [kmu] martina günther [hsm] elys john [uog] luke gillard [uog] rebecca groves [uog] alex latham [uog] ola rajska [uog] guest lecture
lim, chul hoon [erco]
students
이소희
남연정
박수경
여화진
이은지
김민선
김은혜
구여진
이의동
이졍진
정산해
정강연
박지윤
윤수진
손세정
김미성
류승수
이지수
brochure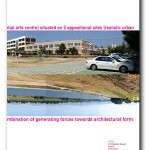 > download [5 MB]