Fachliche Begeitung der selbstorganisierten Projektgruppe »Stadtplatz Lounge« zur Entwicklung eines gemeinschaftlichen Konzeptes zur Gestaltung der Bewohnertreffs WagnisIV als Lounge, einem Raum nahezu quadratischen Grundrisses (5,70 x 5,50 m) bei einer Raumhöhe von 2,80 m.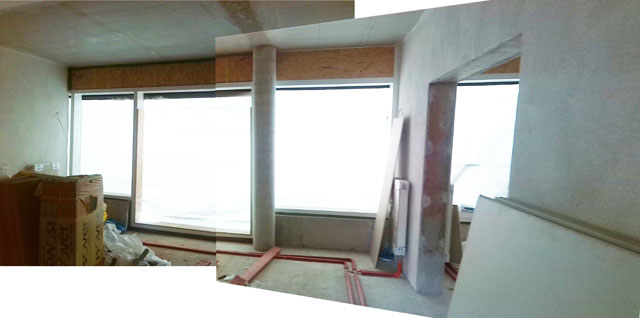 Eine prozesshaft-partizipatorische Raumgestaltung.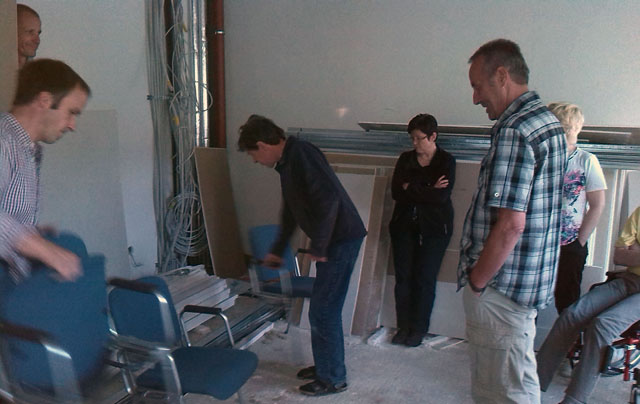 Nutzung
_Bewohnertreff »Wohnzimmer« zur gemeinschaftlichen Nutzung
_Kino, TV z.B. Fußball, Geburtstage, Weihnachstefeier, etc
_Bewohner/innenversammlungen, Arbeitsgruppen, Vorträge,  Seminare, Ausstellungen, Yoga, Gymnastik, Tanz etc.
_Eigen- sowie Fremdnutzung
30-40 Stühle waren schon da: robust, blau, heavy
benötigt wurden noch: Tische, Verdunkelung, Tafel, Flipchart o.ä., Hängesmöglichkeit für Bilder, Beleuchtung, PA, Beamer und sehr wichtig: Stauraum um alles verschwinden zu lassen; um einen leeren, ruhigen Raum zu haben: integrierte Lösung, Identifikation; Prägnanz
Zwei Konzepte wurden entwickelt. »Wand« und »Vorhang«.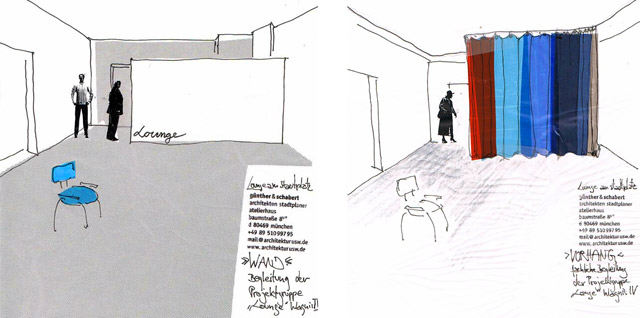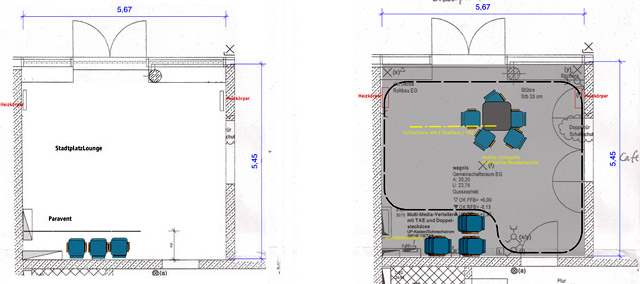 links Wand, rechts Vorhang
Wand
Eine allesfressende halbhohe Vorsatzschale, dahinter Platz für Tisch und Stuhl.
Vorhang
Ein umlaufender Vorhang, gefügt aus Streifen: von jedem/r Genossen/in eine 70 cm breite Lieblingsstoffbahn, horizontal aneinandergefügt. Kann vor die Wand oder vors Fenster oder vor die Lagerecke oder einfach zusammengeschoben werden.
and the winner was: Wand
Temporäre vor Ort befindliche Balkonabsperrungen aus Furnierschichtholz wurden, statt im Container zu landen, zur Wand, eine vorgenutzte Stromschiene plus Leuchten in/an die Decke. Der Rest der Ausrüstung aber Neuware.
Die Anschaffung eines Vorhangs, Sichtschutz & Verdunklung, steht noch aus.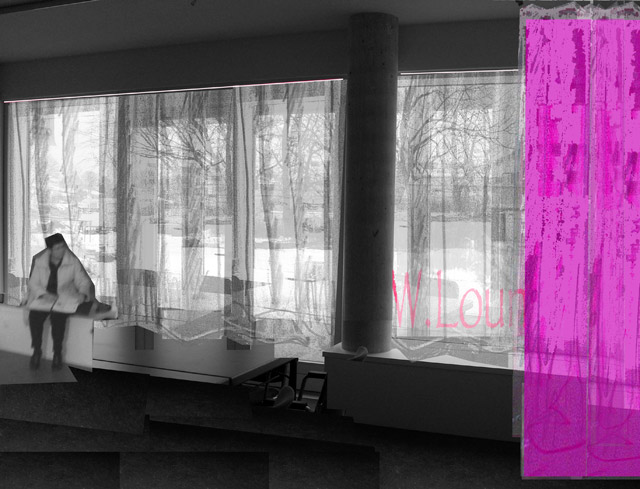 Vorhang auf:
Bisher haben bereits Kinoabende, Projektgruppensitzungen und eine Vorstandssitzung stattgefunden.