auf einer holzgitterschale als unterkonstruktion ein gebilde was als glashaus betrachtet werden kann, das haus zur wildnis. rundumhüllt mit kissen aus glas welches dann erst noch  zu entwickeln wäre: altglas, grünes, braunes, buntes, aufgeschäumt, mit lichttransmissionswerten von vielleicht 10 bis 50 prozent, das es sich beim durchschlüpfen so anfühlt, wie vom auslober gewünscht, als erdgang im maßstab 20:1, mal dumpfes grünlich-braunes licht, dann wieder heller werdend. die äussere oberfläche müsste dann geschlossenporig sein, könnte dann, da es schön schattig mitten im wald steht, auch gerne ein bisschen moosig, algig, glitschig werden, auf garkeinen fall selbstreinigend. [aus: 17 absätze über architektur, 2005]
haus zur wildnis, nationalpark visitor centre, zwiesel, competition
whilst the shape is derrivative of the program, the construction is sourced from very local materials: a wooden gridshell covered by a (yet to be develloped) green-brown translucent foam from recycled glass.
lageplan das besucherzentrum liegt auf einem berg, zwischen den zwillingsgipfeln herum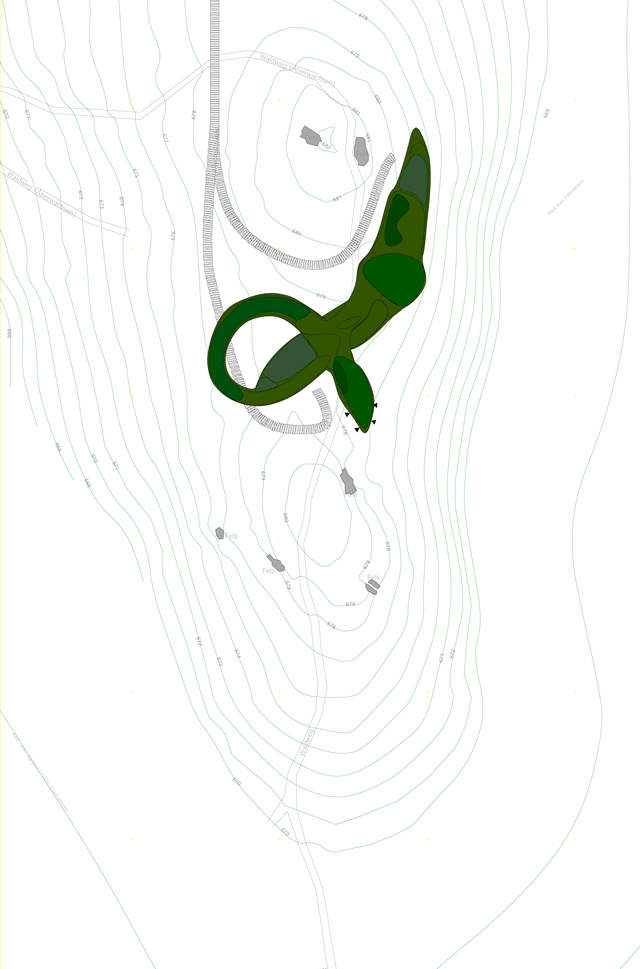 modellphoto die beiden kuppen, das habitat des besucherzentrums, sind in der realität dicht nadelbewaldet.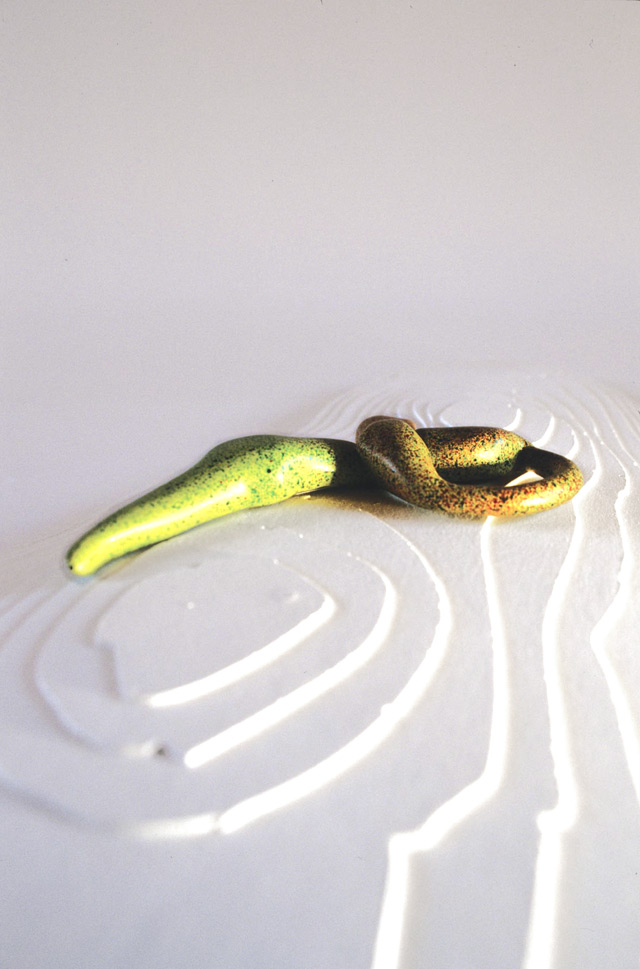 sogar noch viel dichter als in dieser montage dargestellt
die morphologie des besucherzentrums ergibt sich höchstpragmatisch aus content und context:
kernstück des raumprogramms ist ein ca. 50 m langer (rund)gang in welchem all dies kleine, die obere erdschicht bewohnende getier, all die 1000füssler, regen- und sonstige würmer und würmchen, käfer, flöhe etc in vergrösserung nachgebildet sind. dieser rundgang bedingte dann die schlaufe, der rest ergibt sich aus den räumlichen zusammenhängen und funktionalen abhängigkeiten. grundrisse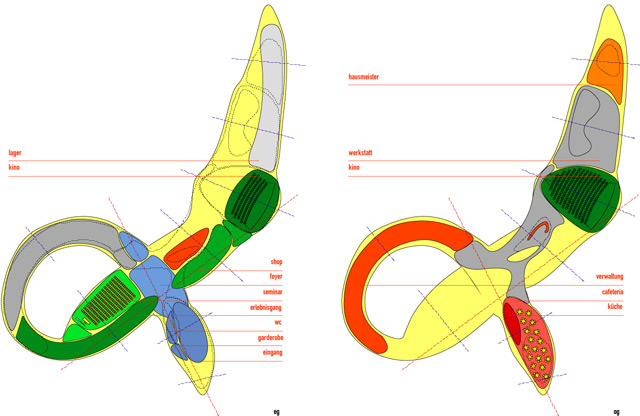 als konstruktion ist eine hölzerne gitterschale, ausgefacht mit altglasschaumkissen variablen lichttransmissionsgrades vorgesehen.

[offener 2-phasiger wettbewerb]